I grew up in a music-loving family in northern Iran. Even in earliest childhood, I played on Santoor and Tombak.

At 13, I emigrated to Hanover, in a new, complex music world.

As a drummer and percussionist, I was a member of several bands of different genres, including with the legendary jazz musician GUNTER HAMPEL .
For one and a half years I traveled to Turkey and Iran, where I deepened my knowledge of this music-cultures on Tombak, Daff and Darbuka.
Back in Europe, I studied for four years at Rotterdam World Music Academy North Indian classical music on Tabla, with Maestro USTAD FAIYAZ KHAN from Delhi.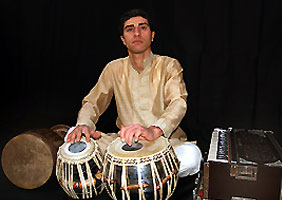 With RISHI KUMAR DHIR I learned classical Indian singing. In other projects, I also played Flamenco, African, Oriental and Latin-American music.
Today I am a member of international groups and performes as a session- and studio-musician.

In addition, I teach in various schools and institutions (a.o.) as a lecturer in Indian classical music at the University Hildesheim .